RECRUITMENT MANAGED SOLUTION CONSULTATION
Our consultations use advanced analytics to design a tailored solution to fit your unique business
Working Globally
We are globally connected, having built strong relationships with in-country partners over the past 20 years.
We understand the importance of compliance and how it can vary from country to country, with legal requirements, certificates and licenses needed. From our client's point of view, you will have one Operam point of contact, ensuring a simple and easy management process.
We'll look after everything from on and off boarding, payroll and supplier management ensuring you have the time to focus on running your business. With strategic partners in 56 countries you can be assured that we'll be able to manage any workforce in the right way be it a single project or a longer term temporary workforce solution across multiple countries.
Below is a list and map of our global reach. It shows all the countries that we can work in around the world. It highlights the locations of our group in-country offices, as well as where we have active strategic partnerships.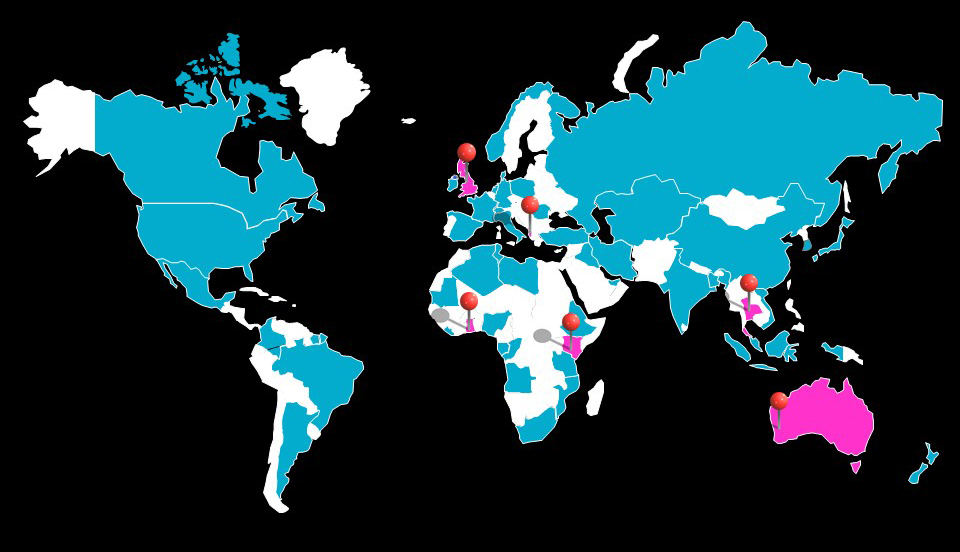 Europe

UK
Albania
Denmark
Poland
France
Romania
Germany
Russia
Ireland
Spain
Italy
Switzerland
Netherlands
Turkey
Norway

Africa
Ghana
Kenya
Algeria
Liberia
Angola
Mauritania
Congo
Nigeria
Cote D'Ivoire
South Africa
Egypt
Tanzania
Ethiopia
Tunisia
Gabon
Uganda
Libya

Americas
Argentina
Suriname
Brazil
Trinidad & Tobago
Colombia
USA (Houston)
French Guyana
Canada
Mexico

Asia and Pacific
Thailand
Bangladesh
Malaysia
China
Singapore
India
South Korea
Indonesia
Vietnam
Japan

Australasia
Australia
New Zealand

Middle East
Kazakhstan
UAE
Qatar
Contact us
If you would like to find out more about the benefits of a workforce management solution, contact us today on 01925 907008 or email enquiry@operamms.com
I have worked with Simon as a supplier for nearly 20 years. During this time, I have always found that the solutions are very effective for suppliers. He instils the right balance for both the client and supplier, where the services are fair, open and responsive. There is no doubt that the client and the supply relationships are their focus. These are services we are happy to support wherever we can.

MD Recruitment Company
November 2016
I have worked with Simon Woodhouse for over 10 years and during this time I have received first class service as a recruiter. The flow of information has always kept us in touch with requirements.

The solution (both the technology & the team assembled) were intuitive and responsive to our needs. The job descriptions have been detailed and meaningful. It is apparent that Simon has an excellent knowledge of market trends and client/candidate expectations. So as a recruiter I have found that this information has been invaluable in sourcing the right people for the end client. It has been evident that Simon forms first class relationships with both the supplying recruitment agencies and the end client.

I would recommend Simon to any potential client or recruitment company.

Recruitment Manager
November 2016
When presented with a challenge to support our Permanent Recruitment challenge, Simon responded with a very cost effective, and comprehensive solution, that we relied heavily upon during a major restructuring exercise. So much so, that once the initial phase came to an end we retained the service. The support provided to the HR teams and the hiring managers was second to none, and it became an integral part of our operations.

HR Manager
September 2016
We had an opportunity to restructure our approach in regards to how we utilised contract labour and recruitment. The burden to the company had become significant, and major change was required. The experience Simon bought to the Change Management project was a key component behind its success. The level of buy-in to the program from within our organisation, and down into the supply chain was a credit to Simon and his team.

I have known Simon for 20 years and in that time Simon has been my colleague, my manager and my mentor. Simon is a very kind and thoughtful person, but will ensure the job is done to the best of his and his team's ability. His management style is one of a consultative approach and leadership, allowing the team to be part of the bigger picture and ownership of the project in hand, but being there for support and guidance when required. He has a very comprehensive understanding of Procurement and the Managed Service Process, which has allowed him to manage some very successful implementations and on-going business. A great asset to any organisation.

Managed Services – Operations & Project Manager
October 2016
Help us with our survey
Do you feel the job market has picked up?