RECRUITMENT MANAGED SOLUTION CONSULTATION
Our consultations use advanced analytics to design a tailored solution to fit your unique business
Operam Managed Solutions Officially Opens Its Doors
03 Nov 2016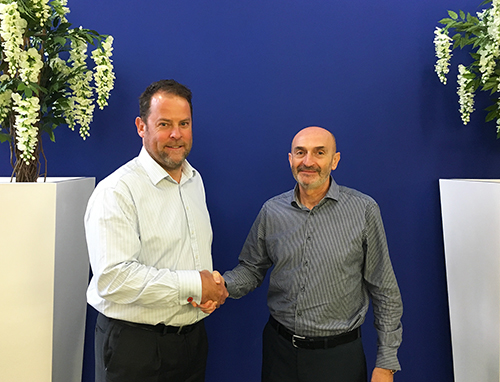 We are delighted to announce that we have officially opened our doors at OPERAM Managed Solutions.
We have been working tirelessly to develop the businesses over the past few months, making sure that the solutions we can offer are unique, robust and scalable.
Our business has been developed by First Recruitment Group CEO, John Urpi (pictured on the right), and managed solutions expert (and our very own director) Simon Woodhouse (pictured on the left), who have a combined 60 years recruitment experience. So although Operam is an independent company, it is part of the wider First Recruitment Group.
Simon brings a strong history in implementing managed solutions for large businesses in the E&P sphere, Utilities, Nuclear and Automotive sectors. Through this experience he has relationships with some of the best technology solutions providers (VMS) in the market, passing on the best deals to clients while helping them to effectively use the new systems.
The great thing about the First and Operam connection is:
We act in an unbiased way, in the best interest of our clients. Always!
We can become quickly scalable should a client need recruitment resourcing using First Recruitment Group and its connections around the globe.
Our Director Simon commented, "Both John and I have seen dramatic changes in the recruitment industry over the years, and have adapted to those changes. In recent years we have seen recruitment budgets decrease while a demand for value, compliance and reporting has increased. We see Operam as an opportunity to evolve with these changes. I know our solutions work, as they are based on the solutions I've been implementing for over 20 years. We believe this is a real opportunity for businesses to prepare for the future, to enable them to adapt to any future requirement with as little disruption to their business as possible."
Operam's solutions can promise results. Simon has delivered solutions that on average have delivered a 35% improvement on CV quality, a 50% increase in candidate quality, a 25% increase in the speed of hire and a 10% reduction in unplanned attrition.
If you would like to find out more you can ring us on 01925 907008 or email enquiry@operamms.com for a free consultation and find out how a managed solution could help you.
I have worked with Simon as a supplier for nearly 20 years. During this time, I have always found that the solutions are very effective for suppliers. He instils the right balance for both the client and supplier, where the services are fair, open and responsive. There is no doubt that the client and the supply relationships are their focus. These are services we are happy to support wherever we can.

MD Recruitment Company
November 2016
I have worked with Simon Woodhouse for over 10 years and during this time I have received first class service as a recruiter. The flow of information has always kept us in touch with requirements.

The solution (both the technology & the team assembled) were intuitive and responsive to our needs. The job descriptions have been detailed and meaningful. It is apparent that Simon has an excellent knowledge of market trends and client/candidate expectations. So as a recruiter I have found that this information has been invaluable in sourcing the right people for the end client. It has been evident that Simon forms first class relationships with both the supplying recruitment agencies and the end client.

I would recommend Simon to any potential client or recruitment company.

Recruitment Manager
November 2016
When presented with a challenge to support our Permanent Recruitment challenge, Simon responded with a very cost effective, and comprehensive solution, that we relied heavily upon during a major restructuring exercise. So much so, that once the initial phase came to an end we retained the service. The support provided to the HR teams and the hiring managers was second to none, and it became an integral part of our operations.

HR Manager
September 2016
We had an opportunity to restructure our approach in regards to how we utilised contract labour and recruitment. The burden to the company had become significant, and major change was required. The experience Simon bought to the Change Management project was a key component behind its success. The level of buy-in to the program from within our organisation, and down into the supply chain was a credit to Simon and his team.

I have known Simon for 20 years and in that time Simon has been my colleague, my manager and my mentor. Simon is a very kind and thoughtful person, but will ensure the job is done to the best of his and his team's ability. His management style is one of a consultative approach and leadership, allowing the team to be part of the bigger picture and ownership of the project in hand, but being there for support and guidance when required. He has a very comprehensive understanding of Procurement and the Managed Service Process, which has allowed him to manage some very successful implementations and on-going business. A great asset to any organisation.

Managed Services – Operations & Project Manager
October 2016
Help us with our survey
Do you feel the job market has picked up?